"I think it's a very useful tool for when we are making traffic stops"
Welcome to Pullover Pal
Stress levels naturally rise when an individual is pulled over by a law enforcement officer, regardless of wrongdoing. However, with recent events and the current political climate, there is increased anxiety when interacting with law enforcement.
The Pullover Pal can alleviate some of that stress with our patent pending Pullover Pal document holder. Designed to fold over a window, Pullover Pal folds up to a compact size when not in use. Even more, Pullover Pal has convenient pockets to keep all personal documents organized and dry behind a water-resistant cover. Let Pullover Pal give you the peace of mind that all your documents are in one easy to carry holder and take some of the stress away from law enforcement interactions.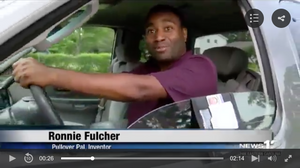 Jacksonville man's invention created to help drivers, police
An incident with police led to an idea by a Jacksonville man who hopes his invention will help relieve stress for law enforcement and drivers.
Read more...
Customer Testimonial Video
Watch one of our customers, Janet, and her dog, Mika, demonstrating how the Pullover Pal organizer can be used.
Watch this video